Birmingham Children's Hospital plans mental health unit revamp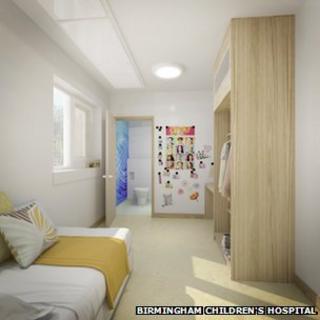 Plans have been unveiled by Birmingham Children's Hospital to redevelop its mental health unit.
The existing site in Moseley will be converted to create 44 rooms for patients aged five to 18 suffering from a range of mental health conditions, including eating disorders.
It will also feature music, fitness and treatment rooms.
Building work costing £9m is expected to start by the end of the year and take up to three years to complete.
Staff, patients and families have helped to design the unit, which is expected to be one of the largest of its kind in the UK, specialising in children and teenagers.
Less 'institutional'
Chief executive Sarah-Jane Marsh said: "Our existing facilities (at Parkview) have become outdated, and we are currently only able to offer shared bedrooms, which is not acceptable."
She added only a small number of young mental health patients needed residential care.
Henry Quek, director of QA Architecture in Aston, is behind the design of the redevelopment and has been helped by staff and patients who have left the unit.
"We get away from the institutional look of the unit (by) getting daylight into social spaces," he said.
The children's mental health service has been run out of the current building at Parkview since 1996 and was taken over by Birmingham Children's Hospital in 1999.