Birmingham cafe destroyed by fire 'could be demolished'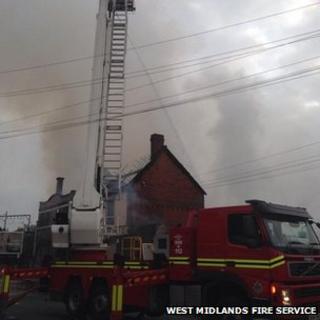 A cafe that was destroyed in a blaze in Birmingham city centre "could be demolished", fire officers have said.
The cafe, which is based in the former Birmingham Dogs Home building in New Canal Street, was hit by a "severe" blaze on Monday.
The road has now reopened to traffic and officers are continuing to investigate the cause of the fire.
West Midlands Fire Service said it had passed the incident on to the council's demolition team.
'A sorry state'
A spokesperson said the fire was put out at about 11:52 BST on Monday.
Five engines had been sent to the building at 06:40 following reports of an explosion.
People were evacuated from nearby properties and eyewitnesses said the building "looked like a bomb had hit it".
The fire service spokesperson said a team had re-examined the building at 21:00 on Monday to check whether anything had flared up again, before the road was reopened.
Simon Price, the general manager of Birmingham Dogs Home, which is now based in Digbeth, said the organisation had left the building in 1987.
He said: "It's a shame to see the building in such a state today.
"I believe it's a listed building. Either way, it's a part of Birmingham's history and it's a real shame to see it in such a sorry state."