HMP Oakwood report shows drugs 'easier to get than soap'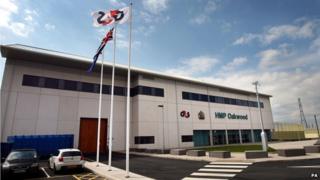 The UK's largest privately-run prison is failing to tackle drugs, which inmates say are now easier to obtain than soap, a report reveals.
Chief Inspector of Prisons, Nick Hardwick, said the findings on HMP Oakwood, near Wolverhampton, were "unquestionably concerning".
One in seven prisoners said they had developed a drug problem while at the prison, the report found.
Operator G4S said it had already taken steps to tackle the problems.
The prison opened in April 2012 and houses about 1,600 inmates. The firm said that running a new jail was a challenging operation.
Jerry Petherick, managing director of G4S Custodial and Detention Services, said the size of HMP Oakwood made the complex process of opening a new prison "even more acute".
It is not the first time HMP Oakwood, a category C jail, has come under fire; in July it was one of two private prisons to receive the Ministry of Justice's lowest rating.
At the time, the Howard League for Penal Reform described it as a "damning indictment" of the role of private firms in justice.
Commenting on the latest report, the Howard League's chief executive, Frances Crook, said: "This private prison has been open for a year-and-a-half and it is getting worse, not better.
"On a payment-by-results model it would be closed because G4S are being paid for it and it is not delivering results."
While there was praise from HMI Prisons for the facilities at HMP Oakwood, including accommodation, as well as its handling of segregation, there was also widespread criticism of many areas of prison life.
In all four main tests - safety, respect, purposeful activity and resettlement - the prison was recorded as either insufficient or poor, the lowest rating.
During an unannounced visit from 10-21 June, inspectors found a wide range of illicit drugs "were easily available" while drug usage was also high.
Inspectors said that while positive drug test results were high, it was all the more concerning when the number of prisoners who refused tests was taken into account.
As well as heroin and a synthetic drug, inspectors found prescribed medications also in circulation, with severe criticism of the healthcare department in the prison.
The main healthcare provider - Worcestershire Health and Care NHS Trust - has been served with a statutory improvement notice by the Care Quality Commission following a critical report last month.
Among the problems in that department highlighted by HMI Prisons was the "chaotic" administration of medications.
While many inmates missed doses, inspectors said "tradable" medications were "routinely prescribed" with numerous opportunities for them to find their way into the prison population.
The report said some effective counter measures were being introduced, but the prison "lacked a focused strategic approach to tackling drug supply and demand".
In response, Mr Petherick from G4S said: "We have already taken steps to make improvements, appointing a dedicated taskforce to address problem areas, such as the prevalence of drugs, while providing additional funding where necessary.
"We can see a reduction in the amount of drugs entering the establishment, the use of force is reducing and better care, sentence plans and resettlement arrangements for prisoners are being put in place.
"We are also working with the Ministry of Justice and the healthcare and education providers, who do not report to us, to address the issues raised in this report."
'Dangerous cost'
HMP Oakwood's rehabilitation work with its 300 sex offenders was also highly criticised in the HMI report.
Inspectors said there was no planned approach for addressing the behaviour of those inmates, many of whom "were in denial of their offending".
"A large number of these prisoners were due for release without their offending having been addressed," the report said.
Mr Hardwick said there was a lot to do "before Oakwood is operating anywhere near effectively".
He added, however, that a new director had been appointed, who seemed to understand what needed to be done.
Mr Petherick said: "We do not underestimate the effort which will be required to bring Oakwood up to the standard we have achieved at our other prisons.
"However, as the experience of staff develops, the regime becomes fully embedded and our reporting systems continue to improve, the months ahead will see significant further improvements in performance.
"All our staff are absolutely committed to helping Oakwood become a first-class facility which secures the very best outcomes for both prisoners and taxpayers."
Director of the Prison Reform Trust, Juliet Lyon, said: "Slashing prison budgets while warehousing ever greater numbers overseen by largely inexperienced staff has come at a dangerous cost.
"This prison is not a model for the future but a warning."