'Severe' fire destroys Birmingham New Canal Street cafe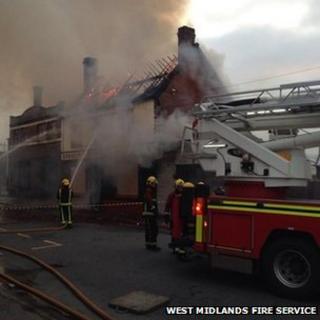 Investigations are under way into the cause of a fire which destroyed a cafe near Birmingham city centre.
Five engines were sent to the "severe" blaze at the former Birmingham Dogs Home building in New Canal Street at 06:40 BST.
New Canal Street was closed and police said that Community Support Officers are "managing the scene of the fire".
West Midlands Police said they are working with the fire service to investigate the cause of the blaze.
There were reports of an explosion and people were evacuated from nearby properties.
Eyewitnesses said the building "looked like a bomb had hit it".
Simon Price, the general manager of Birmingham Dogs Home, which is now based in Digbeth, said the organisation had left the building in 1987.
He said: "It's such a shame to see the building in such a state today.
"I believe it's a listed building. Either way, it's a part of Birmingham's history and it's a real shame to see it in such a sorry state."
'Flames rising'
Alan Poole, who works at Central Flowers opposite the cafe, said staff there had now returned to the building after having been evacuated from it.
"We saw a few flames rising from the building," he said.
"Luckily it did not spread over to us but, for a while, it looked as if it would."
Paul Burnham, 47, said he was taking his car to a garage when he noticed the street had been cordoned off.
"It looked like a bomb had hit it," he said.
The roads around the scene of the fire, which is to the east of the city centre, are likely to be affected for some time, the service said.
Station commander Steve Harris said the fire service was working with the cafe's owner to establish how the fire started.
However, he added that "100% of the building" had been affected.
Earlier the fire service tweeted that a loud explosion had been heard but said the blaze was "beginning to die down", and they had left the scene.