India death girl Gurkiren Loyal's organs back in UK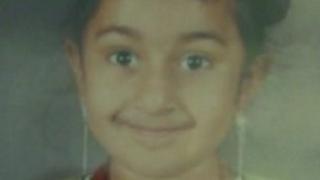 Organs of a girl who died on a trip to India have been returned to Birmingham six months after her death.
But, tests to determine how Gurkiren Loyal died may be futile as it is thought the organs were embalmed.
Gurkiren's family campaigned for the organs' return, following her death after being given an injection to treat mild dehydration.
Embalming is carried out to avoid the spread of infection, but makes post-mortem tests on them unreliable
Although Gurkiren's organs were accompanied by an embalming certificate, her family is waiting for confirmation that they were treated.
'Peace and closure'
Birmingham councillor Narinder Kaur Kooner, who has been working on behalf of the family, confirmed the organs arrived at the funeral directors earlier.
"The family is very distressed," she said.
"They had some hope they would finally get answers to their questions. All they want is peace and closure but now they have seen the certificate they are very distressed."
UK pathologists were unable to carry out their own post-mortem tests on Gurkiren's body because of the missing organs, including a heart, brain and liver.
Earlier, Indian authorities said the organs had been retained at the Government Medical College at Rajindra Hospital in Patiala for post-mortem tests.