Birmingham City Council to settle 11,000 equal pay claims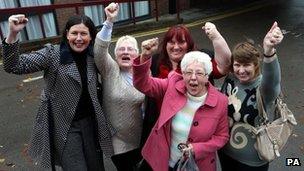 Birmingham City Council and the joint trade unions have reached an agreement to settle equal pay claims brought mainly by female employees who missed out on bonuses.
The council said the agreement would avoid "lengthy and costly" employment tribunal hearings "which could have continued for several more years".
The agreement covers about 11,000 cases, dating back to 2008.
Unison said the settlement "avoided lengthy and costly hearings".
The council has applied to postpone a hearing due to start on Monday.
In January Birmingham City Council said it was facing a shortfall of about £200m to settle claims brought by former employees.
The Supreme Court ruled in favour of 174 claimants last October and ordered the authority to pay out at least £757m.
Related Internet Links
The BBC is not responsible for the content of external sites.