Andris Nelsons to leave City of Birmingham Symphony Orchestra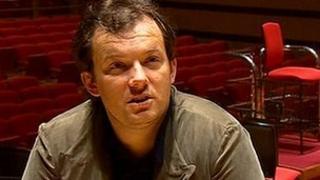 The City of Birmingham Symphony Orchestra's (CBSO) music director, Andris Nelsons, is to leave.
The 34-year-old has agreed to take up the post of music director at the Boston Symphony Orchestra, but will remain with the CBSO until 2015.
The Latvian conductor took up the role in 2008, following in the footsteps of Louis Fremaux and Sir Simon Rattle.
Chief executive Stephen Maddock said the decision to leave had been "difficult" for Mr Nelsons.
"Even Andris has had to realise that he's only human and there's a limit to the number of concerts that he can do in a year.
"He loves the orchestra so much. He loves the city so much and we've had so many fantastic experiences together."
He said that "lots of people will be beating a path to our door" to replace Mr Nelsons when he left and that the role would be filled after an "international search".
Born into a family of musicians in Riga, Mr Nelsons began his career as a trumpeter in the Latvian National Opera Orchestra before studying conducting.
He later returned to that orchestra as music director between 2003 and 2007.