Loan shark profits fund Birmingham debt advice cabin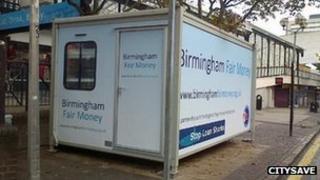 Profits taken from illegal money lenders are being used to fund a new loan drop-in service in Birmingham.
Advice and contacts for "fair" loans will be given from a portable cabin until Christmas Eve.
The Birmingham Fair Money Cabin, on Lower Bull Street, has been provided by funds confiscated from loan sharks.
Councillor John Cotton warned that even legal lenders could charge "well over 1,000%" for loans and said the effects on families could be "brutal".
'Safe and legal'
Jacqui Kennedy, from the England Illegal Money Lending Team, said: "We are pleased that the proceeds of crime money, confiscated from criminals, can be used for such an important cause.
"With Christmas approaching we know that people may be tempted to turn to illegal loan sharks and high interest legal lenders."
The England Illegal Money Lending Team said it had prosecuted 266 loans sharks since 2004.
Ms Kennedy said the Birmingham Fair Money project identifies not-for-profit lenders, to provide "the safe and legal alternatives".
Analysis of prosecutions for illegal money lending show one in five victims decided to take out a loan before Christmas, the team said.
Councillor John Cotton, cabinet member for social cohesion and equalities at Birmingham City Council, said legal payday lenders could also be "high cost" and "inflate" loans very quickly.
"The result is rapid and brutal. Many of the clients of these companies are trapped in a spiral of unfair debt from which it is difficult to escape," he said.
According to the StepChange Debt Charity, the national average amount owed on legal payday loans went up by nearly £400 (from £1,240 to £1,637) between 2011 and 2012.
Many payday lenders are regulated by the Consumer Finance Association (CFA) and have defended the short-term loan service they provide to customers.
Angela Clements, chief executive at CitySave Credit Union, said the Fair Money Cabin would "allow residents to escape from the high cost credit trap they are in".
"We are very concerned at the rapid and unchecked growth of high cost lending in Birmingham," she added.
Citysave staff and volunteers will give loan option advice from the cabin until 24 December.