Hester Mottershead death: Burglary charges dropped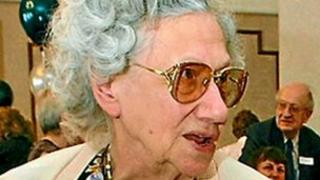 Charges against four men accused of a burglary at the Wolverhampton home of a 90-year-old former headmistress who later died, have been dropped.
Hester Mottershead, 90, of Tettenhall, collapsed after men posing as water board officials searched her home in August 2012.
The Crown Prosecution Service (CPS) previously said there was insufficient evidence to bring manslaughter charges.
Charges of conspiracy to commit robbery have now also been dropped.
However, the CPS said that decision was being reviewed.
Ms Mottershead died in hospital, a day after the burglary, after suffering a suspected stroke.
She was a former headmistress at Bilston Girls High and Wolverhampton Girls High schools.