Sunny Bains appeals to Asian donors to help ill son Gaurav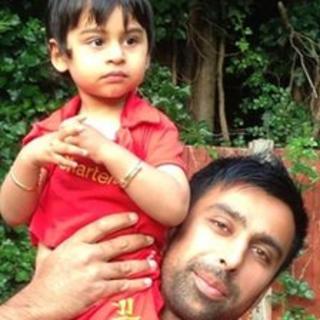 A couple whose son has a rare condition is appealing for more people from the Asian community to sign up to become bone marrow donors.
Two-year old Gaurav Bains could develop an aggressive form of childhood leukaemia if he does not have a transplant.
His parents Sunny and Gurprit, from Tipton in the West Midlands, said more donors are needed.
The couple are due to find out on Monday if either of them is a match.
'Critical shortage'
Mr Bains, who has been keeping a blog about his son's condition and ongoing treatment, revealed that Gaurav was diagnosed not long after his second birthday.
"In June this year, shortly after Gaurav's second birthday (we didn't really celebrate because he was in hospital on an intravenous antibiotic drip and too ill and sad for a party, although we did have a little cake) we found out that he has a rare condition called Monosomy 7.
"Without a bone marrow transplant he will develop a particularly aggressive form of childhood leukaemia.
"This is Gaurav's story.
"I'm telling it in the hope that it will help more people realise the critical shortage of bone marrow donors (less than 4%) in not only the Asian, but all non-white ethnic communities in the UK and encourage them to step forward and donate to help non-white blood cancer sufferers.
"To 'give hope a chance'."
The couple said that the more donors who volunteer, the better the chance they have of finding a match.
But even if they are not successful, the volunteers could help another child or family "faced with the race against time to find a donor".