Birmingham police car rammed as stolen 4x4 refuses to stop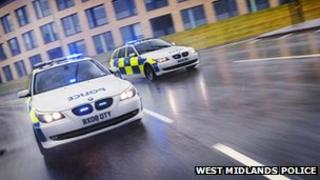 A man has been arrested after a police car was hit by a stolen four-wheel drive vehicle, West Midlands Police have said.
The 22-year-old driver from Birmingham allegedly refused to stop when he was being flagged down by officers.
The man drove the wrong way along the road before crashing into a marked central motorway police vehicle.
A police officer, who was getting out of the car at the time, was taken to hospital with minor injuries.
The driver was arrested on suspicion of robbery, dangerous driving, failing to stop and drinking and driving.
His vehicle had been reported stolen from the Erdington area following a robbery at knifepoint on Wednesday.
Officers on the ground, together with the force helicopter, followed the car to the Hockley area, where two occupants were seen to get out and run off.
Police caught and arrested one man at 02:00 BST on Saturday, the second occupant is still being sought.