Body found in hunt for armed man Garry Foster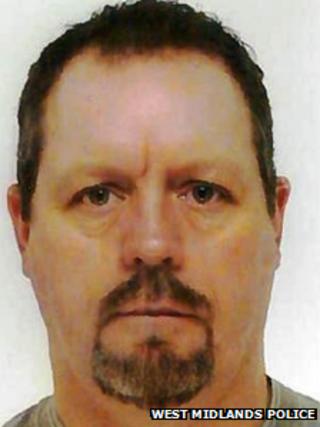 Police hunting an armed man in connection with alleged sex offences have found a body.
Officers said the body was believed to be that of Garry Foster, 53, from Dudley, who disappeared earlier this week.
He was found near Hawford Lock Lane in Claines, South Worcestershire, just after 14:15 BST.
Police said Mr Foster was believed to have killed himself with a firearm which was recovered at the scene.
Mr Foster went missing on Sunday and was believed to be living off the land somewhere in Staffordshire, Shropshire or Worcestershire.
West Midlands Police said they were alerted to the body in a call from a member of the public.
Supt Andy Parsons said: "Since we put an appeal out on the media, we got several calls, one at 14:15 saying they had seen the vehicle Mr Foster was in.
"Shortly afterwards we got a call from another member of the public to say they believed they had seen a body in Claines.
"We do believe it to be Mr Foster."
Police said an investigation would continue into the alleged serious sexual offences.