Saltley School staff to stop teaching pupil after knife incident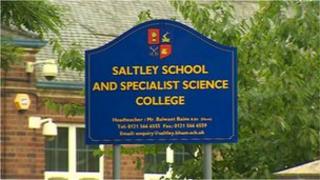 Teachers in Birmingham will stop teaching a pupil this week after governors allegedly overturned a decision to expel a boy who threatened other children with a knife.
Teaching union NASUWT said staff at Saltley School had voted to stop teaching the youngster from Friday.
However, a spokeswoman said staff would continue to teach other classes.
Police attended an incident involving a pupil with a knife on 22 May but officers chose to take no action.
A NASUWT spokeswoman said: "Teachers will refuse to teach the pupil until this dispute has been settled satisfactorily."
A teenager was permanently excluded but the decision was overturned by governors.
Saltley School headteacher Balwant Bains declined to comment on the action but has previously said he has "total confidence in the safety of staff and pupils".