John Anslow prison van escape after security 'short cuts'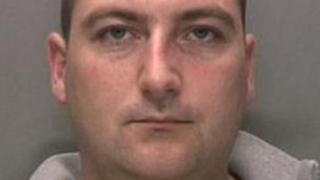 A man accused of murder broke out of a prison van after staff "took short cuts" with security, a court has heard.
John Anslow, 33, who was on route to Stafford Crown Court, was freed by a group wearing masks near HMP Hewell in Worcestershire on 23 January 2012.
Anslow from Tipton, West Midlands pleaded guilty to conspiracy to escape at Woolwich Crown Court on Wednesday.
Six people - five men and one woman - are on trial at the same court accused of helping him escape.
They are:
Ben O'Reilly, 30, of Austin Croft, Birmingham
Craig Wright, 29, of no fixed abode
Samantha Glover, 27, of Parker Lane, Tipton
Daniel Morgan, 29, of Parkeston Crescent, Birmingham
Robert Riddell, 41, of Flamborough Close, Birmingham
Stuart Reid, 52, of Church Lane, Coventry
They all deny charges of conspiracy to assist Anslow in his escape from lawful custody.
The jury heard that Anslow had smuggled materials out of prison, including a mobile phone, by inserting them into his anus, after guards failed to perform full checks.
Investigators found cling film, paper and a latex glove inside the prison van after he had escaped, the court was told.
'Not scanned'
Prosecutor Michael Burrows said Anslow was strip-searched and asked to squat by an officer at HMP Hewell on the morning he escaped.
Anslow should then have been made to sit on a special chair used to scan prisoners for electrical devices, he said.
"That morning, none of the prisoners was scanned in that way," Mr Burrows told the jury.
"One of the prison officers says of that, 'it was staff just short-cutting the process to make it quicker.'"
The court heard that as the van was driven out of prison grounds, a Volkswagen Scirocco pulled in front of it and three men with sledgehammers launched an attack.
The van driver was pulled out of his seat and punched in the face by one of the attackers while another pointed what appeared to be a sawn-off shotgun at him, the jury heard.
Anslow then went on the run for more than a year.
He was arrested on 13 March in the Alancak area of northern Cyprus and deported back to the UK.
Four other people have also admitted conspiring to free Anslow, the jury was told.
They are:
Paul Cadby, 47, of Woodcote Road, Erdington, Birmingham
Luke Hazel, 24, formerly of Hockley, Birmingham
Moysha Shepherd, 23, of Hamstead Road, Great Barr, Birmingham
Ryan Powell, 21, of Shenstone Road, Ladywood, Birmingham
The quartet will be sentenced at a later date.