Oldbury primary school pupils term start delayed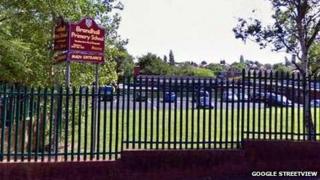 Hundreds of children have missed the first two weeks of the school term after building work delays.
The work at Brandhall Primary in Oldbury has not been completed, leaving 280 of the 366 pupils without a classroom.
Sandwell Council said the work was being done by a private contractor and the "disappointing" delay was not the council's fault.
The reception class and pupils in year six have not been affected.
Councillor Simon Hackett from the authority said the term should have started on 9 September and the option to relocate the affected students to other premises was not acted on.
It has not been possible to contact the school for comment.
'Disruption and misery'
Mr Hackett said the children should be able to start school on Monday.
He said: "I am bitterly disappointed that the work has not been completed on time by the contractor which has caused massive disruption and misery to many parents.
"As a result I have insisted that the school provides home learning packs for the children until they can come back to the main school."