John Anslow pleads guilty to prison van escape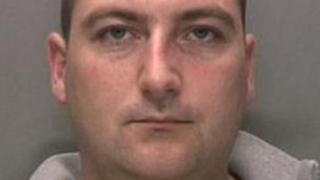 A man charged with murder has pleaded guilty to escaping from a prison van on the way to court.
John Anslow, 33, who was being transported to Stafford Crown Court, was freed by masked men near HMP Hewell in Worcestershire on 23 January 2012.
He was arrested on 13 March in the Alancak area of northern Cyprus and deported back to the UK.
Anslow, from Tipton, West Midlands, pleaded guilty to conspiracy to escape at Woolwich Crown Court on Wednesday.
Four other people have already pleaded guilty to a charge of conspiracy to assist Anslow in his escape from lawful custody.
Six other people, five men and one woman, will go on trial over the charge at Woolwich Crown Court on Thursday.