Brierley Hill illegal waste 'will take months to clear'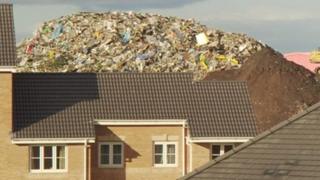 An illegal tip in the West Midlands will take months to clear, the Environment Agency has said.
It took legal enforcement action when the rubbish at Refuse Derived Fuel Ltd (RDF) in Brierley Hill reached a height of 42ft (13m).
If the mound is not removed, the director of the company could be jailed for six months for breaching a permit.
The company said it cannot afford to transfer the waste, which is burned for fuel.
Scott Beviss, who lives near the tip, said he had endured four years of blight.
"We've woken up to find dead rats outside and in our garden.
"Obviously it's devalued our property quite a bit having a massive rubbish tip next door."
David Hudson, from the Environment Agency, which has been working with Dudley Council to pressure the landlord of the site to take action, said: "With the best will in the world, it will take several months to clear this material.
"I share the frustration with the people who have to put up with it.
"It is an eyesore."
The Environment Agency said RDF had been subject to six legal hearings, going back to 3 May 2012, to get the rubbish cleared.
At the latest of those, at Birmingham High Court on 20 June, the firm was found in contempt of court for breaching an injunction which required part of the site to be cleared.
RDF's manager Robert McNaughton was sentenced to six months in prison, suspended until 23 December, for failing to reduce the pile.