New hospital wards to reduce 'bed-blocking'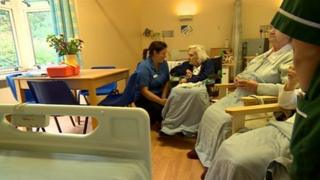 New wards costing about £2m have been opened at two hospitals in the West Midlands to reduce "bed-blocking".
Sandwell and West Birmingham NHS Trust said it was providing 50 extra beds for Rowley Regis and City Hospitals.
They are for patients who are well enough to be discharged but are waiting for an available bed at a care home or provision of home care services.
Trust chief executive Toby Lewis said it was working with social care teams to discharge patients more quickly.
He said: "We need to make sure our district nurses and our therapists, local GPs and social care colleagues work more closely together to make sure patients move through the system."
Hospital pressures
The Medically Fit for Discharge (MFFD) wards are managed by a full team of nurses.
Local GPs make regular visits to assess patients.
A spokesperson for social care at Birmingham City Council said it understood the pressures hospitals faced in terms of managing beds.
"We're working closely with NHS colleagues across the city to address these pressures," the spokesperson said.
"The number of Birmingham City Council patients experiencing such delays at City Hospital remains consistently low."
Sandwell Council said over the next three years it had to find savings of £20m from its adult social care budget.
It said: "Our firm commitment is to protect frontline services for the people of Sandwell wherever we can."