West Midlands Police report drop in street gangs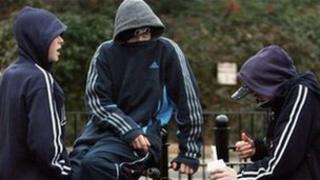 The number of gangs in the West Midlands has more than halved in two years, according to police.
A specialist unit at West Midlands Police set up in 2011 investigated 45 urban street gangs but latest figures show the number has dropped to 17.
Det Insp Andy Bannister from the force said: "Our approach is to tackle the issue before it arises."
But critics argued the drop was largely due to a redefinition by police of what constitutes a gang.
There is no statutory definition of a gang but the latest guidance from the Association of Chief Police Officers (Acpo) narrowed the previous definition by adding an element of criminal activity, excluding many groups from the category.
Mr Bannister, lead officer of the West Midlands Police gang unit, said it was difficult to quantify how much of the reduction in the force area was down to police work compared with semantics.
'Difficult to count'
But he said "a significant portion" was owing to the work of the unit.
"We intervene and divert potential members before they have a chance to join a gang," said Mr Bannister.
The force now has 33 officers working in its specialist unit after adding an extra 10 last month.
Former policeman Kirk Dawes, who runs support group the Centre for Conflict Transformation, said: "It's very difficult to count gangs as many young people don't admit they are in one.
"There is no legal definition of a gang, which is why it can be changed like it has been.
"The figure being bandied about eight or so years ago was 2,000. So what's a gang?
"Do you count lads going off to school and meeting up and calling themselves a gang, which is very different to an organised crime group on the street?
"If there was a proper legal definition of a gang, by statute, then we could count them.
"Until then, any figures can be misleading."