West Midlands Police handed knickers among 23,000 items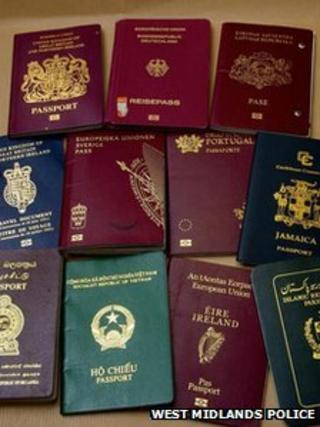 Knickers, condoms and coffee grinders were among nearly 23,000 items of lost property handed in at West Midlands police stations in a year.
Between April 2012 and March this year 22,930 items were stored, with 6,752 returned to the owners, including one of the 16 pairs of knickers handed in.
The force is using social media at its largest property store in Birmingham to give information via Twitter.
Other items include hearing aids, false teeth and even a live budgie.
'Owner not found'
Ahead of the initiative, the force said the top five items handed in by members of the public were driving licences, wallets, purses, debit cards and money.
Facilities manager for West Midlands Police Chris Willetts, said: "A few years ago we even had a live budgie brought in, we did try to trace the owner but when we couldn't, a member of staff gave the bird a home.
"We hope that the day provides the public with a really good understanding of the amount of time and the space needed to store the property."
Property which has been found and handed in to the force's stores remains there for four weeks.
Suitable found items not claimed after four weeks, containing no personal data, are often auctioned, police said.
Over the year, 1,416 driving licences were handed in, of which 915 were reunited with rightful owners.
The force said it also returned 575 wallets to rightful owners and 485 mobile phones.