RDF faces further action over Brierley Hill rubbish pile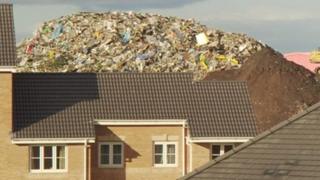 A waste firm is facing further court action after failing to clear rubbish from a site in the West Midlands, the Environment Agency has said.
A judge at Birmingham High Court had given Refuse Derived Fuel Ltd (RDF) until Tuesday to remove a waste pile from its plant in Brierley Hill.
The Environment Agency said inspectors found the company had "failed to comply with the judge's order".
No-one from RDF has been available for comment.
At its peak, the pile of rubbish stood 42ft (13m) high and towered over many homes in the area. About 200 tonnes was cleared in October.
The Environment Agency said RDF had been subject to six legal hearings, going back to 3 May 2012, to get the rubbish cleared.
'Back to court'
At the latest of those, at Birmingham High Court on 20 June, the firm was found in contempt of court for breaching an injunction which required part of the site to be cleared.
RDF's manager Robert McNaughton was sentenced to six months in prison, suspended until 23 December, for failing to reduce the pile.
Another employee, Sharon McCann, was ordered to pay a share of the legal costs.
The Environment Agency said it would now look to take the case back to court.
A spokesperson said: "We have always believed that the most important thing is to get the site cleared and we are currently assessing the evidence of failure to comply.
"We are also arranging to discuss the matter of waste removal with the landowners in consultation with the local councillors, Dudley Council and West Midlands Fire Service."