Firefighters use 'hidden' Birmingham New Street tunnels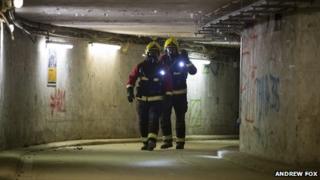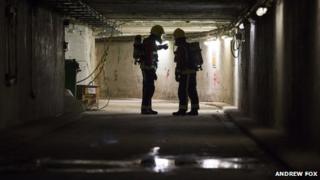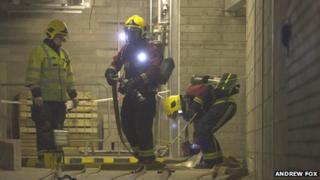 A network of tunnels beneath Birmingham New Street station, closed for nine years, have been reopened for firefighters to use for exercises.
The 433ft (132m) long tunnels, which are 13ft (4m) below the station platforms, closed in 2004.
They were previously used by Royal Mail post trains to transport mail from the station to regional sorting offices.
West Midlands Fire Service has been using them in exercises to test new breathing apparatus.
Crew Commander Mark Clifton said: "Around 40 firefighters from seven of our stations were involved in the two hour exercise, which was based on a rescue scenario.
"The tunnels were a perfect place to test new breathing apparatus."
Network Rail said when the £600m redevelopment of Birmingham New Street was complete the tunnels would be used for staff accommodation and also a catering centre.