Lickey Hills Country Park larch infected by 'serious disease'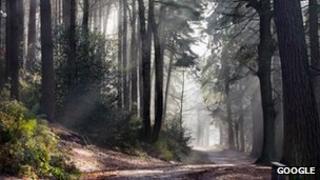 A number of larch trees are to be felled at the Lickey Hills Country Park after being infected by an "extremely serious" disease.
Rhododendron and bilberry were also found to be infected by the fungal-like Phytophthora ramorum, Birmingham City Council said.
It is hoped work to stop the spread of the disease will be completed by 30 September.
Access to areas of the park will be restricted while work is carried out.
The site is subject to a containment notice issued under the Plant Health Order.
A large area of larch is to be felled adjacent to Twatling Road and all larch within a 100m buffer zone of the infected trees are also to be felled.
The remains of the trees will be burnt on site, the council said.
'Vital work'
Head of parks at the council, Darren Share, said: "This disease is extremely serious and the work being carried out by our woodland team is absolutely vital if we are to contain the outbreak.
"Now it's absolutely vital that the public help us prevent the spread of this disease."
Park visitors are asked to keep dogs on leads within the park, keep to footpaths and clean footwear, dog's feet and bicycle wheels.
Symptoms of the disease vary with the type of plant infected but can include lesions that exude fluid from infected bark on trees, the Forestry Commission said.
The council said the The Food and Environment Research Agency (FERA) and the Forestry Commission will be monitoring the situation and carrying out future surveys.