Six trapped in Birmingham Library lift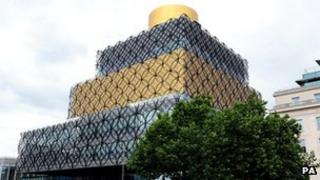 Six people were trapped in a lift for 45 minutes at the new Library of Birmingham.
It was the first day the glass lift, which goes from the fourth to the seventh floor, was used by the public, library director Brian Gambles said.
The building, which has one million books and more than 200 public access computers, opened on Tuesday.
The six people were given food and drink at the library and the lift was temporarily closed, Mr Gambles said.
He added the people trapped, during Thursday morning, were rescued "as quickly as was possible".
"The lift is now temporarily closed while assessment work is undertaken to minimise the risk of such an incident happening again, and to minimise the rescue time required," he said.
The library includes theatres, an exhibition gallery and music rooms.