Cameron and Gove officially open Birmingham free school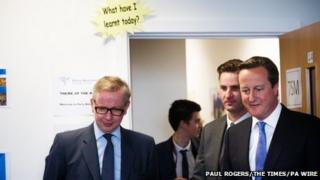 A free school in Birmingham has been officially opened by Prime Minister David Cameron and Education Secretary Michael Gove.
Perry Beeches III in Lee Bank is one of six new free schools opening in the Midlands this month.
The schools are funded by central government, but not run by local authorities.
Another Perry Beeches free school, IV, is scheduled to open in Ladywood area in September 2014.
Free schools can be set up by groups of parents, teachers, charities, businesses, and religious or voluntary groups.
Perry Beeches academy headteacher Liam Nolan oversaw the opening of Perry Beeches II in the Jewellery Quarter last September.
He had applications for Perry Beeches III and IV approved by the government in May.
He said: "We give students extra classes in basic numeracy, basic literacy so that their Key Stage 2 levels can be raised at the end of Key Stage 3, so they're getting the maximum - ready for work, ready for university, ready to take on amazing GCSE results."