Videolink evidence 'to save West Midlands Police £309k'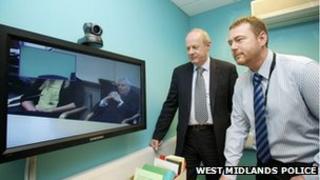 West Midlands Police say they expect to save more than £309,000 a year by getting officers to give court evidence via videolink.
The Live Link scheme is being rolled out across the force after a six-month trial in Sutton Coldfield last year.
The force said the trial saved officers a total of 165 hours' working time by not having to leave their stations.
It said it will not be used for every case but decided on a "case-by-case basis", a spokeswoman said.
Insp Stewart Crawford, from the Central Justice Services team, said: "Using Live Link, we can potentially save 14,416 hours and £309,655 per year."
Live Link operates via a secure connection straight to Birmingham Magistrates' Court, but can be used to connect to any court in England.