Longbridge's £1bn new town centre heralds 'new era'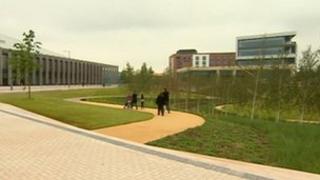 The first phase of a new £1bn town centre has opened on Longbridge's former MG Rover factory site.
Development work is expected to continue for 15 years, helping create about 3,000 jobs.
Almost 300 jobs have already been created, with more promised in the next two months.
Crowds gathered in Longbridge earlier as acting Mayor Coun Mike Sharpe officially opened a supermarket on the site.
He joined new store manager Andy White to officially open a Sainsbury's on the site, as well as the West Midlands' first dedicated Autism charity, the Autism Birmingham Community Interest Company.
'New era'
They were joined by Ken Bullas who worked for 37 years at the MG Rover plant, and has now taken on a job at the new supermarket.
Mr Butlas said: "It is great to be back working on this site.
"I was a part of this site's history, and now I will be part of its future."
At its peak, the MG Rover site employed 6,000 people before its 2005 closure.
Mike Murray, from development firm St Modwen, said: "With the opening of the town centre we've created 3,000 full-time jobs here so we're half way back to the original amount of jobs that were here at Longbridge."
Andy White said: "This is the start of a new era for Longbridge. It is very exciting to be a part of it."