Birmingham Library: Is the £189m price tag justified?
By David Lumb
BBC News, Birmingham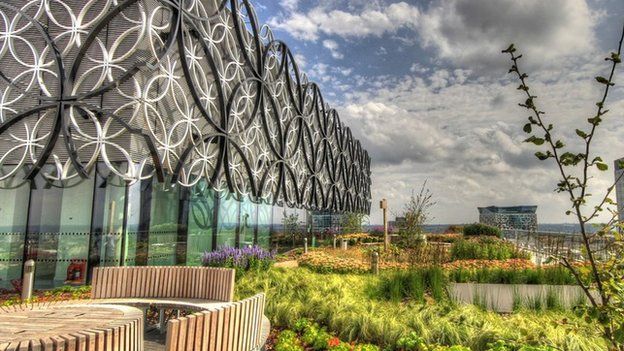 Birmingham's new central library has opened at a cost of £189m. But in an era of spending cuts and library closures across the country, is such an outlay justifiable?
The new building - complete with an amphitheatre, gardens and hundreds of thousands of books - has opened its doors to thousands of excited visitors.
But Margaret Bailey, of Brent, north-west London, said she would not be sharing in the enjoyment.
She has seen six of her 12 local libraries close since 2011 due to spending cuts and said she was angry so much money had been spent on just one.
"We are told you can't keep libraries open because of the cuts forced by central government and yet Birmingham finds £200m for this," she said.
"If staff are being cut and services being reduced I would not want £200m spent on one library. It makes a bit of a nonsense of them saying there is no money."
Birmingham is not the first city to spend millions on its library - Liverpool's central library opened earlier this year after a £50m facelift - but this project has cost more than three times as much as any other in the UK.
So-called "super libraries" have been springing up across the UK while smaller branches are facing closures and cuts as councils try to save cash.
A £24m library in Newcastle opened in 2009 but the council has said it plans to close 10 smaller branches. In Liverpool, despite the big spend on its central library, four branch libraries have shut and others have reduced opening hours.
The number of libraries in the UK fell by 347 overall to 4,265 in 2011/2012.
Birmingham has made cuts to its library service too. Last year the number of full-time staff fell from 260 to 161 and opening hours were reduced by a combined 139 hours a week.
The library's director Brian Gambles said they had been fortunate the plans for the central library were approved just before the economic downturn struck.
"We got authority from cabinet to proceed with this project with that budget in October 2007," he said.
"If we had been a year later, I don't think they would have approved it. I think we would have been right at the outset of the financial crisis."
Most of the funding has come from borrowing with a small amount from donations. The council has also raised some cash by selling land. Mr Gambles said the spending was justified.
"Even in the middle of a financial crisis, if the private sector investment essentially dries up, the thing that keeps the economy going is public sector infrastructure projects," he said.
However, the fate of the smaller libraries is a concern to award-winning writer Andrew Davies, who scripted the BBC television adaptation of Pride and Prejudice.
"One thinks they could have kept a lot of local libraries open [rather than spending money on one project]," he said. "I do think there needs to be some super libraries that you can go into with confidence and get absolutely anything.
"But I got so much from my little library in south Wales when I was a teenager. They mean a lot to communities. It would be a shame if they disappeared."
The new central library has a staunch defender, however, in one of Birmingham's most famous sons - the poet Benjamin Zephaniah.
"I think it's something we should be proud of," he said. "It will be an attraction that will draw people to Birmingham. It's an investment for the future. It will only add to what is already in the city centre.
"I don't know if the council is right to spend that kind of money. You can't have it bigger without spending more.
"The whole idea of libraries is changing. But there will be no one model. A city like Birmingham will need different libraries to smaller towns.
"The thing about smaller libraries is the workers have real knowledge about the items on the shelves. My only fear is that the big libraries are too big for the staff to know the books."
Related Internet Links
The BBC is not responsible for the content of external sites.