Youth football 'assault' probed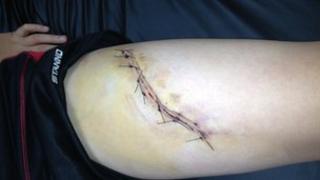 Police are investigating after a 13-year-old goalkeeper suffered a deep 10-inch wound to his leg during a football match.
Kavan Ryan, from Solihull, needed 10 stitches to his thigh following the tackle.
West Mercia police confirmed it was investigating an alleged assault.
The tackle that caused the injury took place during a match between Coldland Colts and Alvechurch Youth on 14 August.
The match was immediately abandoned and authorities were alerted.
Boots ban call
A senior FA official said the tackle was "reckless and not violent" while the referee's report recorded it as "an incident of youthful over-enthusiasm".
A West Mercia Police spokesman said officers had been alerted to the incident, but stressed that no arrest had been made.
He said: "We can confirm the incident was reported to us and we are investigating it as assault.
"We are not aware of any arrests at this time."
Kavan's parents have suggested the injury was made worse by the bladed boots being worn by the boy tackling him.
His father Robert Copestake said: "I do think the boots should be banned for junior league games.
"I do not think the injury would have been as bad if the other player was wearing old-fashioned moulded studs."
Kavan said he hoped to resume his goalkeeping career "as soon as the stitches are out".