Man held over 'car wash row' death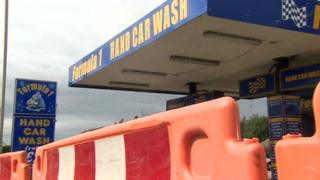 A 21-year-old man has been arrested on suspicion of manslaughter after a man was hit by a lorry.
The 26-year-old male was struck by the HGV in Thorns Road, Quarry Bank, shortly after 15:30 BST on Tuesday.
He had been involved in a dispute with a man at a hand car wash in Thorns Road moments before he was hit, West Midlands Police said.
The 21-year-old suspect was arrested at an address in Quarry Bank, on Wednesday afternoon.
Police and paramedics were called to Thorns Road, but despite their best efforts the man was pronounced dead at the scene.
Det Sgt Jim Munro said: "This collision happened at a busy time in the afternoon and I know there would have been a number of people in the area that witnessed it.
"I'm also keen to hear from anyone who has any information about the dispute the man was involved in just before the collision."