Birmingham Botanical Gardens plant raises roof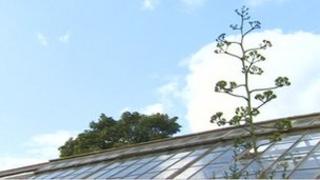 A desert plant at Birmingham's Botanical Gardens has grown so much that staff have had to remove roof panels to let it through.
In just two months, the Mexican Needle and Thread plant has grown 18ft as it prepares to bloom.
About 50 yellow flowers will be produced when the plant blooms in the coming days.
But the 11-year-old plant will then die within weeks, experts say.
Senior Horticulturist Wayne Williams said: "It is fantastic to witness something like this."
Once the plant dies, smaller plants will grow at its base.