West Midlands food banks see 'spike in interest'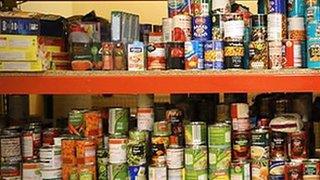 Food banks in the West Midlands had the sharpest rise in inquiries in the past three months in England and Wales, according to the Citizens' Advice Bureau (CAB).
Between April and June 779 people asked about help in feeding their families.
Changes to benefits could be a reason, said the National Institute for Economic and Social Research (NIESR).
Of the five local authorities with the highest rate of unemployment, four are in Birmingham.
The CAB said over six months there was a 142% increase in the number of inquiries in the region, compared to a national average of 78%.
Jonathan Portes, director of NIESR, said an increased number of sanctions on Job Seekers Allowance (JSA) was "overwhelmingly" responsible for higher poverty rates, which he suggested had led to the spike in food bank interest.
'Perfect storm'
A sanction is when JSA is suspended because the job seeker has broken a rule, such as not turning up for an appointment or refusing to accept a job offer.
Mr Portes said: "The situation would be worse in the West Midlands because of very high unemployment and low-paid employment, therefore more people are on benefits, which means more people being sanctioned, and therefore more people have a sharp reduction in income."
The government has said there is no link between benefit reforms and the increasing popularity of food banks.
The chief executive of CAB, Gillian Guy, said: "Food banks have no place in modern Britain.
"The combined impact of welfare upheaval, cuts to spending, low wages and the high cost of living mean millions of families are facing a perfect storm of pressures on their budgets."
According to the Trussell Trust, which runs the biggest network of food banks in the UK, the percentage of referrals because of benefit changes and delay has increased in the West Midlands from 47.42% between 1 April and 30 June 2012, to 52.33% for the same period this year.