Application to extract gas from coal in Warwickshire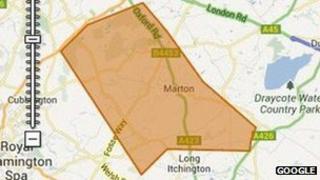 A company has applied for a licence to extract gas from coal in Warwickshire.
Cluff Natural Resources wants to carry out deep underground coal gasification (UCG) by Bubbenhall, Princethorpe and Long Itchington.
The process involves putting oxidants down a borehole, which sets the coal burning and giving off synthesis gas (syngas), which generates electricity.
Unlike fracking to release shale gas UCG does not fracture underground rock, the firm said.
'Long process'
Algy Cluff, the firm's founder, said new technology meant drilling was possible horizontally as well as vertically, allowing access to seams previously untouched.
"The country is in danger of running out of fuel and we really need to explore getting the energy out," he said.
"We have been blessed with huge reserves of coal."
Most seams used in UCG are called "stranded", and the coal cannot be extracted by traditional mining techniques.
While fracking is speculative, UCG only happens where a seam has already been identified, Mr Cluff said.
If permission is granted by the Coal Authority, work would not start for at least four years.
"It's a long process," Mr Cluff said. "All we've done at the moment is apply for a licence.
"We'd have to convince ourselves it was worth it."