The Public arts centre: Sadness over closure decision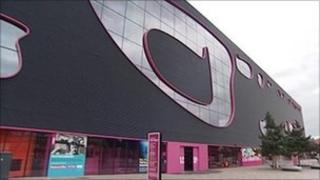 "The problem is that it was just like a big play centre - it hasn't been handled well from the start."
That is the view of Lee Benson, from Number 9 gallery in Birmingham, on the decision to close The Public arts centre in West Bromwich in November.
Sandwell Council said it can no longer subsidise the £30,000-a-week cost of running the attraction, which opened two years late in June 2008.
The director of the contemporary art gallery, which opened in 1999, said the closure was "very sad".
Mr Benson believes there is already a shortage of places to show people "there's more to art than Tracey Emin and Damien Hirst".
"It's a lovely building - mad colours - if they'd put it into private hands it could have been a very successful project," he said.
'Great disappointment'
Charles Small, chief executive of The Drum arts centre in Birmingham, the national centre for black British arts and culture, said the closure was a "great disappointment".
"I do hope that this [closure] is not the inevitable state of arts and culture in West Midlands and UK," Mr Small said.
Cultural and political leaders "should safeguard facilities like the Public", he said, which provide access to artists and performers and allow young people and adults to participate in the creative process.
"The end product is an enquiring mind and wellbeing of our citizens," he added.
IT company Open Minds has been based in The Public since 2010 after relocating from Sutton Coldfield.
It currently employs six people but managing director Bipin Patel said he expected to lose workers as a result of the news because not everyone would be able to travel elsewhere.
"We are very sad - we have been here three years and we have only just got settled.
"We moved here purely because of the building and we want to stay - moving again would be a big upheaval and cost a lot of money," he added.
Valerie Bunce, from Tipton, regularly goes to a knitting group at The Public.
The 67-year old grandmother said she had sent letters to Sandwell Council telling them she did not want The Public to go.
"I was told nothing had been decided and my opinions would be considered - that was only two weeks ago.
"It's such a shame - especially now all the shops have opened up in New Square."