The Public arts centre in West Bromwich to close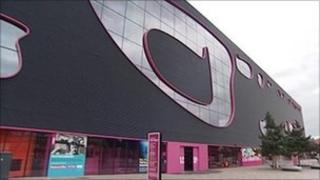 The £72m Public arts centre in West Bromwich is to close.
Sandwell Council said it could not continue spending £30,000 a week to subsidise the attraction, which opened two years late in June 2008.
The Public's managing director Linda Saunders said the decision was "heartbreaking" and she was disappointed for the staff.
She said 120 paid apprentices and 60 workers would "immediately" lose their jobs when it closes on 30 November.
Recent proposals have been put forward to transform the building into a sixth-form college.
Council leader Darren Cooper said he knew the building "means a lot to many people" and it had "not been an easy decision to make".
He added: "The fact of the matter is the council cannot continue to subsidise The Public.
"The overall cost to the council is currently about £30,000 a week. That is nearly £1.6m a year.
"That is taxpayers' money. In the face of cuts from central government, this cannot carry on."
'Giant shoe box'
When designs for The Public were first put forward in 1994, the gallery was intended to revitalise the community.
Some residents, however, saw the building as an extravagance and a waste of money.
Criticism steadily grew as the project ran into difficulties, with debts rising and funding falling short.
The venue had to be rescued on more than one occasion by government grants or Arts Council funding.
Earlier this week Mr Cooper described the arts centre as a "giant shoe box" and said it should not have been built when it was by previous council leaders in his Labour group.
He said he had always had doubts privately about the building.
Since The Public opened, however, visitor numbers have steadily grown for theatre, music and comedy performances, as well as exhibitions.
'Really upset me'
Sandwell Arts Trust, which currently runs the centre, said more than 380,000 people visited in 2012-13, more than half of whom were from the Sandwell area.
Ms Saunders said the attraction had 52,000 visitors last month and said people came to The Public because it was "iconic".
She added: "People worked very hard in very difficult circumstances and that's what's driven us - to make a difference to Sandwell."
A petition calling for the centre to be saved has been signed by about 5,000 people.
Great-grandmother Catherine King has attended a knitting group every Friday at The Public and said she feared it would be unable to continue.
"It will be hard to find somewhere that can accommodate wheelchairs and scooters," she said.
"We're devastated. It has really upset me."
Ro Harris, from the LearnPlay Foundation, which provides an outreach service to schools, said: "We employ 150 staff at The Public.
"We will meet on Monday to discuss what will happen to us.
"At the moment we just do not know."
A total of 30 businesses are based in The Public.
'Nothing else like it'
Dennis Patel's IT recruitment company moved into the building in April.
He said: "The Public has had a rocky start but now it's right on the verge of achieving its potential.
"There are more and more artists and comedians coming here - there is nothing else like it."
However, mother-of-one and office worker Jenny Judge, from Mollin Street in Smethwick, said: "Thank God for that.
"It was a complete waste of money.
"You would not get me in there if you paid me. To think what they could have spent that money on."
Jean Groves, 77, from the Yew Tree estate on the border of West Bromwich and Walsall, said: "I think it's a shame.
"I have a lot of friends who use The Public.
"I like the cafe, I like the theatre. But I also understand Sandwell College needs more space."