Stafford Hospital public consultation: Hundreds left outside meeting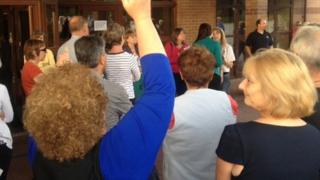 Hundreds of people who tried to get into the first public consultation meeting to discuss plans for Stafford Hospital were refused entry.
Administrators said Mid Staffordshire NHS Trust should be dissolved, with many services at the hospital taken on by nearby hospitals.
More than 700 people were in the meeting at Stafford County Showground.
But hundreds more were refused entry as bosses said it would be unsafe to let them in.
The Trust Special Administrators [TSA] said it was the largest available venue in the area and "there are seven further public meetings arranged for the duration of the consultation".
People who were unable to access the main hall were guided to a separate building so they could watch the proceedings on a screen.
'Total shambles'
One woman was chanting "we want in, we want in" but those who got in to the main room were shown a video explaining the reasons for the proposals.
But after about 30 minutes people became restless and there were chants of "off, off, off", while one man shouted "total shambles".
Stafford Hospital was the focus of a major public inquiry after it was found poor care may have led to a higher-than-expected number of deaths as a result of maltreatment and neglect.
The Francis Inquiry highlighted "appalling and unnecessary suffering of hundreds of people" under the trust's care.
The Mid Staffordshire NHS Trust went into administration on 16 April after a report concluded it was not "clinically or financially sustainable".
Under the TSA's plans, maternity services and seriously ill children would no longer be treated at Stafford, while its critical care unit would be downgraded and some emergency surgery lost.
In addition, Stafford Hospital would be part of the University Hospital of North Staffordshire in Stoke-on-Trent while Cannock Hospital would become part of the Royal Wolverhampton Trust.
The consultation will run for 40 working days, ending on 1 October, and the final recommendations will be forwarded to the secretary of state for health.
Speaking at the meeting, Kellie Mackenzie, 36, whose son was born at Stafford in July, said: "There were people queuing to get in well after it was due to start. They have not answered any questions - just angered people."
Events manager Lorraine Conkey, 46, said: "They have absolutely underestimated the people of Stafford and how passionately we feel about this."
Martyn Guest, who did not make it to the meeting room, said: "You would have thought they would have expected a lot of people. I don't know why they couldn't have done it outside."
In a statement, the TSA said: "Doors were closed for health and safety reasons when the main hall and the overspill room exceeded their combined capacity of 1,100.
"The meeting was also broadcast into the car park areas and no-one was turned away from the Showground.
"The Trust Special Administrators recognise many people are keen to take part in the consultations and that is why there are seven further public meetings arranged for the duration of the consultation.
"There are other ways to participate in the consultation and full details are available on the website."
In April up to 50,000 people took part in a march from Stafford's town centre to the hospital, protesting at plans to downgrade its services.