Meriden Gypsy camp: Public inquiry begins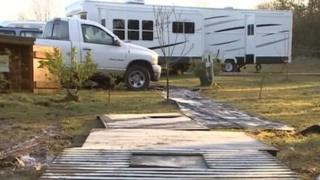 A public inquiry has got under way to determine whether Gypsies, who were forced to leave an illegal camp, can return to the land they own.
The Gypsies appealed against Solihull Council's decision to refuse permission for two temporary pitches next to the site of their camp, set up in 2010.
The families left the site on Eaves Green Lane, Meriden, earlier this year.
The inquiry is the latest in a series of planning wrangles between the authority and the Gypsies.
Retrospective planning permission for the two pitches in a builders yard, next to where the camp was set up three years ago, was a revision of an earlier submission for seven which had been refused in March.
Local residents, who set up the campaign group Meriden Residents Against Inappropriate Development (Raid), have previously described the inquiry as a "waste of taxpayers' money".
'Whatever it takes'
Doug Bacon, from the group, said the Gypsies wanted to "put vulnerable people on the site".
"It is a field which frequently floods and the narrow lane gets very slippery in the winter, so it is entirely unsuitable for the elderly or infirm," he said.
Gypsies spokesman Noah Burton said the request for 12 months' planning permission was just until the council got a permanent gypsy site at Damson Lane in Solihull up and running.
The inspectors have already said human rights and equality issues would be integral to the case.
The inquiry, at the Heart of England Social Club, Meriden, is expected to last four days.