Birmingham Central Library's archive packed for move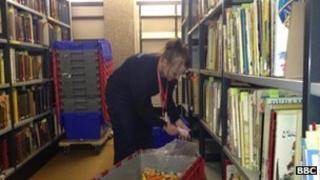 More than 66,000 crates of books, papers and archives are ready to be moved to Birmingham's new library.
The Central Library closed its doors on 29 June ahead of September's move into a £189m building in Centenary Square.
Packing archives, which has been happening since 2009, for the new Library of Birmingham, "has been mindblowing," staff said.
Staff, working with relocation specialists Nexus Property Solutions, will finish the move this week.
Stuart Phile, head of specialist relocations with Nexus, said it was one of the largest tasks ever faced by the firm.
"There hasn't been another job quite like this," he said.
"In total, we have had 65 people working all day, plus weekends and evenings to get it all done.
"Broken down, it has taken 4,000 working days to complete it.
"Planning for the move began in 2009, with three months of solid planning before anything was moved at all."
'Strange to be leaving'
Library co-ordinator, Nikki Bi, said: "The sheer scale of the job is mind-blowing. We have been using an 80ft hoist to lower books and other materials down from the higher floors.
"From there they are packed into sealed, water-proof crates to protect the collection, so nothing has been damaged.
"I have been here for fifteen years, and it does feel very strange to be leaving.
"But the new building is ideal. It will allow us to bring facilities into the 21st century at last and is perfect for the city."
The new building, also on Centenary Square, will open its doors to the public on 3 September.