Decision deferred over Dudley Hippodrome demolition plan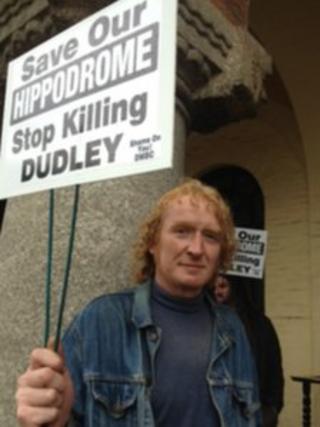 A decision about whether to knock down a theatre dating back to the 1930s has been deferred.
Dudley Hippodrome in the West Midlands had been recommended for demolition by borough council officers.
But a decision was deferred for further investigation by Dudley council's planning committee at a meeting on Monday evening.
About a dozen protesters gathered outside Dudley Council House TO protest against demolition plans.
Grandfather-of-four Gordon Downing, 77, from Dibdale Road, Dudley, said: "I think it's been a disgrace it's been deferred.
"The councillors originally declined it but then they changed their minds. But it's still a hurdle overcome. It's made us more determined to fight on."
'Back on map'
Father-of-one Ivor Robinson, 44, a drum maker who lives off Tividale Road in Tividale, said it was "great news".
He added: "A deferral is not a refusal. But it's not a demolition either. We will see.
"This place can put Dudley back on the map. The possibilities are endless."
Gary Sawers, 54, from Avon Close in Pensnett, said the Hippodrome could be "the jewel in Dudley's crown" and bring "community spirit back" to the area.
He said: "I am over the moon but I'm still upset we have not got that 110% answer. We need to know now. The council is playing with our emotions."
Dudley Hippodrome was built in 1938 and used as a theatre until 1964, when it became a bingo hall.
The building has been empty since 2009.
The council has previously said the Hippodrome would be demolished as part of £10m regeneration plans.
It said an independent study had estimated that reopening the theatre would require an investment of £5m to 10m.