Face of Birmingham: Four families shortlisted for £100,000 statue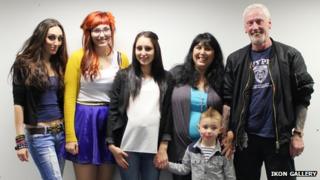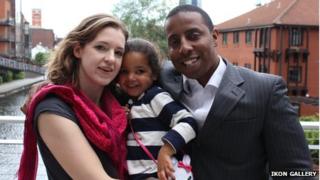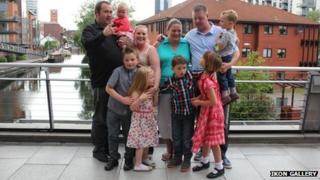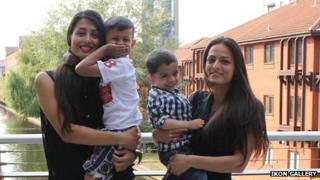 Four families have been shortlisted to be "The Face of Birmingham" in a new piece of public art.
The three-year project by Turner Prize-winning artist Gillian Wearing aims to find and "immortalise" a real Birmingham family.
A bronze statue of the chosen family by the Birmingham-born artist will be put up in Centenary Square.
Pictures and short videos about the four families are on show in the BBC's public space at The Mailbox.
Ms Wearing said: "The project draws attention to the unsung and everyday, raising questions about civic identity and what constitutes a family today."
372 nominations
A panel, including a newspaper editor, a former Aston Villa footballer and the chief executive of the new Library of Birmingham will make the final choice.
Members of the public sent in 372 nominations during 2011 and 2012. From these the panel selected a shortlist of four:
The Clarke family: Mother Michelle is half Indian and stepfather Kevin is Irish. They have three daughters, Leanne, Billie and Kerry. Kerry has one son and is expecting a second child.
The Hay and Wooldridge family: Rachel and her partner, Richard Hay, have a daughter, Kaeliea Hay.
The Hancox and Treadwell family: Tonya and her husband, Craig Hancox, have three children, Nethaniel, Anna-Zara and Emily. Nichala Treadwell and her husband, Mark, also have three children, Benjamin, Chloe and Callum.
The Jones family: Roma lives with her son, Kyan Ishaan Jones. The family also includes Roma's sister, Emma, and her son, Shaye Jones-Amin.
The panel will make its decision based on each member's subjective views of what constitutes a family, according to the Ikon Gallery which is producing the project.
They will look at factors including the number of generations in the family unit, friendships, diversity, and their to links to Birmingham.
The identity of the winning family will be announced on 27 August.
A spokesperson said the gallery is at the start of the fundraising campaign which aims to raise the £100,000 for the statue.