Stiliyan Petrov greets Pete Gough on leukaemia charity run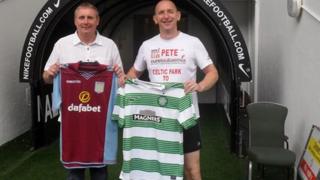 A runner raising money for charity in honour of one of his footballing heroes has been greeted by the star at the end of a 300-mile run.
Pete Gough, 40, has run from Celtic Park in Glasgow to Villa Park in Birmingham in aid of Cure Leukaemia.
The Aston Villa fan was met by the club's ex-captain Stilian Petrov when he finished the run on Saturday.
Petrov was diagnosed with the disease last year and has had to retire from playing football.
Mr Gough, who started the run at the home of Celtic, another of Petrov's former clubs, on 20 July, ran the final 26 miles on Saturday before arriving at Villa Park in the afternoon.
The Cure Leukaemia charity then tweeted: "A huge thank you to @StanPetrov19 for donating £800 to @GoughPetegough!"
The journey Mr Gough, from Shrewsbury in Shropshire, took mirrors the transfer move made by Petrov in 2006 when his former boss at Celtic, Martin O'Neill, took him to Villa for a fee of £6.5m.
'Villa half marathon'
The midfielder, who won 92 caps for Bulgaria, was diagnosed with leukaemia in March last year but is now in remission.
He announced in May he had retired from football.
The 33-year-old is now part of the coaching squad at the club.
On his Just Giving page, Mr Gough explained why he had decided to do the run.
"As I'm sure you will remember I ran a half marathon around Villa Park in November after flying out to New York to run in the marathon which was cancelled.
"I had the pleasure of going to the Cure Leukaemia Christmas Ball and whilst there met some wonderful people who have either lost someone due to leukaemia or they are suffering from leukaemia themselves and that is why I have chosen to this year run from Celtic Park to Villa Park, a 310-mile journey which I aim to complete in 13 days."