Sandwell Council's children's services rated inadequate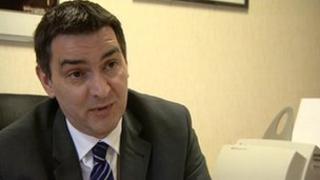 Children's services at a West Midlands council remain inadequate inspectors say, four months after two officials resigned over problems there.
Sandwell Council said it had not been given enough time to turn things around since an inadequate rating from Ofsted in April.
The authority said it has lodged a complaint over another inadequate rating from inspectors on Friday.
Meanwhile, children's services at Walsall Council are improving.
The department had been deemed inadequate but inspectors reported children's services "now have a clear vision, the right priorities and a better awareness of the work that is required to continue to improve," the authority said.
'Making things better'
Last July, the head of children's services announced her departure after Ofsted found vulnerable children were being "left at potential risk of harm".
Councillor Rachel Andrew, portfolio holder for children's services, said they welcomed the latest rating of adequate but accepted there was more to be done.
"The report and subsequent recommendations from Ofsted have given us confidence that we are moving in the right direction and this will help us to continue to focus on being better together for all children and families in Walsall," she said.
In the report on Sandwell's children's services, the council said Ofsted found outcomes for children in care "met basic standards and the council has made progress but it branded the overall service as ineffective and said parts of it were poor quality".
It also criticised leadership and management following its inspection in June.
Children's services boss Councillor Simon Hackett, who took over after resignations in April from councillor Bob Badham and Helen Smith, the director of children's services, said he believed Ofsted had failed to paint an accurate picture.
"We have always accepted Ofsted reports but this time I think they have got it wrong. In fact we have put in a complaint to them about their conclusions," he said.
'Praises our ambition'
"Things are improving and the pace of change is picking up.
"I am new in post and my focus is entirely on making things better.
"The report itself says we have turned a corner by undertaking wholesale system change rather than the piecemeal approach of the past.
"It also praises our ambition and says we have built on a firm foundation to drive forward critical and widespread changes.
"How then can it judge the service as inadequate overall or say senior leadership is failing?"
He said they warned inspectors the authority would fail an inspection and it was "counter productive" to conduct another almost two months since the last one.