'Brummie of the Year' panda Babu dies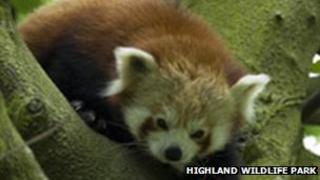 A red panda who became a celebrity after escaping from a Birmingham zoo has died following a short illness.
Babu sparked a county-wide hunt after escaping from Birmingham Nature Centre in 2005.
He was found up a tree four days later, and went on to earn the title 'Brummie of the Year' for his exploits.
His new owners at the Highland Wildlife Park in Kincraig, near Aviemore, announced eight-year-old Babu was put down after developing tumours.
Head keeper Una Richardson said: "Babu moved to us in 2008 after becoming quite the celebrity in Birmingham.
"Red pandas are an endangered species and he moved here in the hope that he would father cubs."
'Peaceful life'
But those hopes were dashed when Babu developed the tumours.
Ms Richardson added: "Unfortunately there was nothing that could be done, and he had to be put to sleep.
"Babu was a hugely popular attraction and never tried to escape once from here.
"He lived a peaceful life with his partner, Jodie, and was always keen to meet his visitors. He will be missed."
Les Basford, manager at Birmingham's nature centre, said: "I was sorry to hear of Babu's death.
"During his life, Babu fathered some cubs and contributed to the European endangered species programme for red pandas.
"We currently have a young female red panda called Amba."