Birmingham A38 tunnel drivers have 'heeded congestion warning'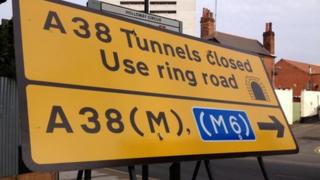 Motorists have heeded warnings to stay away from Birmingham while two city centre tunnels shut for the summer for repairs, a business leader says.
Steve Brittan, Birmingham Chamber of Commerce president, had said shutting St Chad's and Queensway tunnels on the A38, would cause "chaos".
But three working days into the closures, Mr Brittan admitted the city has not completely ground to a halt.
However, he said he would be avoiding Birmingham.
The tunnels shut at 22:00 BST on Friday for six weeks to allow the first major work in their 40-year history to be carried out. They are due to reopen on 2 September.
'Sailed through'
Monday was the first full working day drivers tested the fallout in the city.
Inrix, which monitors traffic levels, said the morning and afternoon rush hours on Monday resembled "a fairly average day on days when the schools aren't off".
Motorists gave mixed reactions with some reporting long delays to their journeys and others saying they were unaffected.
Mr Brittan said: "When the announcement came out about this and in the run-up [to the closures] I was not going to go to Birmingham.
"It's difficult anyway in rush-hour for meetings and if events are on in the city - is it worth it?
"But, I have been in and I feel there is much less traffic.
"People have heeded the warnings.
"I went in on the day of the closures and it was horrendous and on the evening they shut I sailed through.
"But generally, I am avoiding the city and I think I am making the right decision."
He said he understood the work needed to be done and that it was vital drivers were told to find different routes.
"I don't think the media has hyped any of it up...in this case it was essential to make people aware of what was going to happen."
The city council announced last October that it would be carrying out the repairs.
It said traffic levels were usually up to 20% lighter during the school summer holidays.
The council and its highways contractor Amey have set up a website giving details of the tunnel closures.
A spokesman for the council said the network had been coping well and any congestion was in the expected areas.
Advance warning for drivers and publicity had been key.
"But we don't want people to get complacent and get back into their cars thinking it's OK," she said.