EDL Birmingham protest: Police make a total of 20 arrests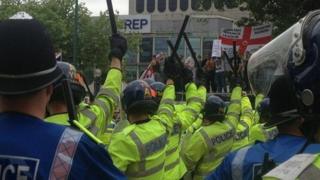 Three people have been charged following demonstrations in Birmingham on Saturday, police say.
West Midlands Police said it made a total of 20 arrests surrounding an English Defence League (EDL) rally and counter protest.
A 20-year-old woman has been charged with violent disorder and two men have been charged with possessing offensive weapons.
Police said up to 2,000 people gathered at two locations in the city centre.
The woman will appear before Birmingham Magistrates' Court on Monday.
EDL supporters were in Centenary Square from about noon while opposition groups, including Unite Against Fascism (UAF), gathered in Chamberlain Square.
A small number of protesters and police officers were injured at both events and four people were arrested after bottles were thrown at police during the EDL protest.
Police said 13 of the 20 total arrests were for public order offences and involved supporters of both protests.
'Successful operation'
Two men, aged 26 and 22, have been charged with possessing offensive weapons and bailed, while another two men remain in custody on suspicion of the same offence.
Two men were cautioned for assaulting police officers, one man was cautioned for theft, and one man was arrested for possession of drugs and released on bail.
Police arrested a woman for breach of the peace and she was later released without charge.
A further arrest was made on Friday for threats on Facebook and the man was bailed with a curfew put in place so that he was unable to attend the protest.
West Midlands Police said about 1,000 extra police officers had been on duty and the force helicopter had been used to monitor the situation.
Assistant Chief Constable Sharon Rowe said both demonstrations "largely passed off without serious incident" and it had been a "successful operation."
She said: "We are aware of some instances of criminal damage and a number of assaults have been reported, which will be the subject of our ongoing inquiries.
"We recognise that the people of Birmingham have been both concerned and inconvenienced and we would like to thank them for their tolerance, co-operation and patience."
Police said there were a total of three hospital admissions for minor injuries and that one officer, who was taken to hospital after suffering a head injury, has been discharged.