Anthony Brown murder: Erdington man jailed for life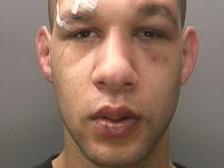 A Birmingham man has been jailed for the "brutal attack" and murder of his flatmate Anthony Brown.
Joseph Snape, 28, will serve a minimum of 25 years after a jury at Birmingham Crown Court found him guilty on Monday.
He previously denied involvement in the December 2012 attack in Erdington.
Another flatmate, Michael Herrington, aged 22, admitted manslaughter with diminished responsibility and was sentenced to a minimum of 18 years.
A West Midlands police spokesman said the level of violence used at the flat in Kingsbury Road had "shocked even the most experienced officers".
The court heard how Snape had "led the attack", after a witness reported seeing him torturing Mr Brown while Herrington "sat laughing on a bed".
Police arrived to find Mr Brown's body wrapped in a duvet with arms and legs tied up and a bag was over his head.
His body was covered in cuts and bruises.
Snape was arrested when he returned to the scene, claiming to have spent the previous night with a friend in Harborne.
Herrington handed himself into police on 1 February after a national appeal to trace him.
Speaking after the sentence, Det Insp Buck Rogers said: "Anthony Brown was subjected to a brutal attack, losing his life in the most awful way.
"We don't know exactly what Mr Brown went through during those last moments but it must have been absolutely terrifying.
"The level of violence used and complete lack of dignity that was given to him shocked even my most experienced officers."
In addition to being sentenced to a minimum of 18 years Herrington was given an order under Section 45a of the Mental Health Act and a Section 41 Mental Health Act Restriction Order, which orders him to spend time in hospital as well as prison.
Related Internet Links
The BBC is not responsible for the content of external sites.