Smethwick blaze: Firefighters continue to dampen down hotspots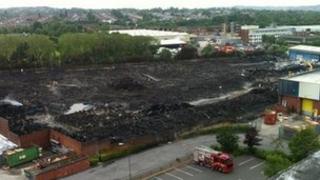 A large fire at a recycling plant in the West Midlands is yet to be fully extinguished after burning for days.
A Chinese lantern caused the blaze involving 100,000 tonnes of plastic, that began at the Jayplas depot in Smethwick on Sunday night.
About nine firefighters remain at the site and are dealing with hotspots and pockets of fire, the fire service said.
At its height, about 200 firefighters attended the blaze, which caused an estimated £6m worth of damage.
The fire covered an area of about 90,000 sq metres and was described by West Midlands Fire Service as the biggest it had dealt with in the region.
'Avoid cheap lanterns'
The blaze sparked calls for Chinese lanterns to be banned and Sandwell Council said it would ask local retailers to voluntarily stop selling them.
Adrian Knott from Night Sky Lanterns, a Warwickshire company which sells the lanterns, said he was not aware of a trade association or representative body for the industry.
Mr Knott said: "I think it would be helpful if there was a standard minimum product quality guideline because there are certainly some low quality products being sold which are damaging the industry's reputation.
"I would urge customers to avoid buying cheap, low quality lanterns.
"Good quality lanterns use thicker paper, have much lower heat loss and therefore achieve better flight times and altitude which ensures that the fuel cell burns out before returning to the ground."
"Trying to legislate for every eventuality and implementing blanket bans is not the answer, rather having quality products and sensible use is what we need to encourage."