Birmingham Children's Hospital £450m rebuilding plan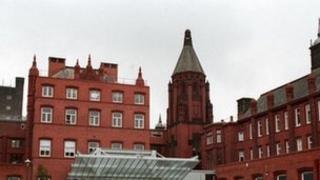 A new £450m Birmingham Children's Hospital is being planned on the Queen Elizabeth Hospital site.
The chief executives of the children's, women's, and Queen Elizabeth hospitals have signed a joint agreement which would create a new health campus.
The hospitals believe the move would benefit safety and research.
Sarah-Jane Marsh, from the children's hospital, said it could be "eight to 10 years" before the first patient walks into a new hospital.
"We are building up a war chest to help finance a new development, but we would have to borrow some money through Private Finance Initiative and there are discussions taking place with the Department of Health," she added.
'Patient safety'
At the moment, babies born at the Women's Hospital that require surgery have to be transferred across the city to the Children's Hospital and then transferred back following complex operations.
Children with cancer who need radiotherapy have to go to the Queen Elizabeth (QE) Hospital for treatment.
Specialist doctors employed by the QE Hospital also work on the children's hospital site in the city centre.
Dame Julie Moore, who runs the QE Hospital, said: "It would be a lot easier, but more importantly drive higher quality and patient safety, if we had all three specialties together.
"The three boards have set off on a path - we are going to find a solution along with Birmingham University."
It is also believed that the new health campus would help boost research.
This could also bring further high-tech investment and jobs on to the Battery Park site in Birmingham.
The current children's hospital is housed in the old Victorian general hospital, which was designed by the great, great-grandfather of the tennis player, Tim Henman.
The hospital, built in 1894, now provides some national children's specialties and is said to have outgrown the building.
A current redevelopment of adolescent cancer facilities means having to build a new storey on top of some existing facilities.
The road outside has to be closed whenever helicopters need to land with seriously ill children.
Other plans 'unaffordable'
Discussions concerning a potential merger of the children's and women's hospitals have taken place in the past, but broke down in 2011.
There were also previously discussions held about creating a £700m hospital to house both.
Dr Ros Keeton, the chief executive of the women's hospital, said this had been considered unaffordable and they were now planning a separate £70m refurbishment of the hospital.
"We see benefits for women, for babies and for families, so in whatever way we can, we will be supporting them in their attempts to move," she said.
"Our ideal would be building a brand new women's and children's hospital which is unfortunately unaffordable for Birmingham, so we are concentrating on a combination model."
Consultation on the move, which is seen as in the best interests of the 1.1 million people served by the hospitals, should begin next year.