Smethwick fire: Saving wildlife after a huge blaze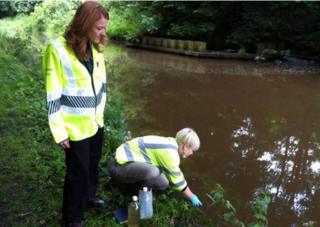 As fire crews battle to put out a major blaze involving plastic recycling material in Smethwick, thoughts turn to protecting the surrounding environment.
Key concerns in the immediate hours after the fire began are the impact of potential pollutants and falling oxygen levels in nearby watercourses.
The Canal And River Trust, alongside the Environment Agency, has been taking samples to test whether fish and other wildlife need protecting and water is being pumped from a nearby canal to help reduce any risk.
The Canal And River Trust wants to avoid a repeat of a fire in Bilston in 2011, which resulted in the loss of about 100,000 fish.
The Environment Agency in the Midlands said it was "cautiously optimistic about pollution" as watercourses checked earlier showed "no sign of environmental impact" so far.
Alex May, an environmental scientist with the trust, said fish could be rescued and a section of the canal closed if necessary.
She added that samples taken could take up to five days to test so monitoring was also being done visually - looking for fish in distress, either gasping for air or floating.
Attempts are also being made to divert water running off from the fire through drains into the canal.
"In this case there could be all sorts of plastic residue in the water. Particles you can see, that we call suspended solids, can block fish gills," Ms May said.
"Then there's a risk of a chemical reaction where the bacteria in the canal try to break down chemicals and that activity strips oxygen from the water."
'Plume of pollution'
The trust's aerators, which agitate the surface of water to increase oxygen levels, have recently been used at a blaze in Kidderminster.
The Kidderminster fire, also at a recycling factory, resulted in about 200 fish dying as oxygen levels dropped in the Staffordshire and Worcestershire canal.
Earlier in 2013 the trust helped to restock a Derbyshire canal after hundreds of fish died during a two-month fire at a recycling plant.
Ms May said even when fish rescues were possible, at a cost of £1,000 a day, delays in the impact of pollution could be a problem.
She said the worst case she had ever seen was the 2011 Bilston warehouse fire.
Water used to put the fire out ran into the Old Main Line Canal creating "a plume of pollution", she said.
"It wiped out 10km of canal.
"We rescued a few thousand fish but lost about 100,000.
"There was no immediate impact and it took about three days for the oxygen levels to drop."