Smethwick fire: Chinese lantern 'caused largest blaze'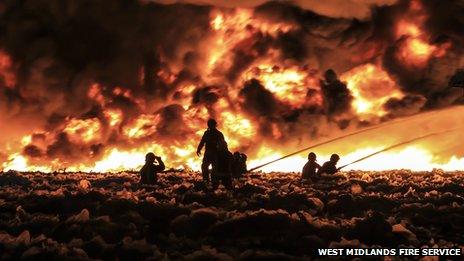 A huge fire involving 100,000 tonnes of plastic recycling material, thought to have been sparked by a Chinese lantern, has been contained say firefighters.
Crews described the blaze, which also involved a factory unit, as the largest they had seen in the West Midlands.
More than 200 firefighters attended the fire in Smethwick. Three of them have been taken to hospital.
Fire chiefs have now called for an "urgent review" into the use of Chinese lanterns.
Chief fire officer Vij Randeniya said it was the 15th fire at a waste recycling site in the West Midlands this year and said he was calling for a meeting with plant operators.
Mike Maxwell, the director of Jayplas, said the fire had been "a tragic accident over which we had no control".
The blaze in Dartmouth Road, which is expected to take about three days to fully extinguish, is within an industrial estate, but the closest residents were being advised to keep windows closed.
The fire service said Dartmouth Road, Halfords Lane and Brasshouse Lane were closed to traffic and that the fire was likely to cause congestion in the area.
Nearby Galton Valley Primary School, in Brasshouse Lane, had been closed because of the road closures.
Mr Randeniya said the fire, which began at about 23:00 BST on Sunday, had taken eight minutes to take hold after a lantern landed in the depot.
The service has previously campaigned against the use of Chinese lanterns.
"What you're doing in an unregulated and uncontrolled way is putting fire in the sky and every now and again it lands on something like this and we're here for three days," Mr Randeniya said.
In a statement, West Midlands Fire Service urged community leaders and members of the public to discourage the use of Chinese lanterns.
It said there was "wide scope" for limiting the use of such lanterns and questioned whether event licences would be needed for anyone wanting to release them.
The Department for Environment, Food and Rural Affairs said it was raising awareness of the risks of sky lanterns and looking to see what could be done to improve fire safety.
It is also asking councils to look at the licensing of mass releases of the lanterns.
Mr Randeniya said they had made "steady progress" on the fire, although it had caused "£6m of devastation".
He said: "We can see the seat of the fire, but we can't get to it at the moment - and that measures about 300m by 300m.
"Conditions are difficult and it's quite tricky underfoot so we're having to be extremely careful. We can only take it 100m at a time but hopefully by tomorrow we will have made substantial progress."
About 100 firefighters remained at the site earlier and officials said their priority was to protect nearby buildings.
Mr Maxwell, from the recycling plant, apologised to all the people living nearby for the disruption caused and said they hoped to "have the site up and running as soon as possible".
He added: "Jayplas will do everything we can to assist the emergency services and the Environment Agency to ensure the site and surrounding areas are made safe and cleaned up as quickly as possible with minimum impact to the local environment."
Area commander Steve Vincent described it as the "largest fire that we've had in the West Midlands".
The ambulance service said it had treated 13 firefighters "for a variety of minor injuries, though three were taken to hospital overnight".
"Injuries include heat exhaustion, injuries to eyes and an ankle as well as one minor burn," a spokesman added.
Public Health England in the West Midlands said smoke from any source could contain substances to irritate breathing, skin or eyes.
"People with asthma and other respiratory conditions may be particularly susceptible to the smoke and should carry and use their medication [such as inhalers] as usual," said a spokesman.
Witness Jack Awal said he could see the fire from his home two miles away in Handsworth.
He said: "I heard a loud bang and went outside to see what it was.
"I immediately recognised where the smoke was coming from. I knew it had to be a factory.
"It was like a scene from a movie. There were so many large explosions and loud bangs. It was like a firework display - there were loud crackles and bangs every few seconds."
Related Internet Links
The BBC is not responsible for the content of external sites.